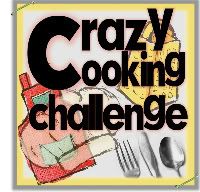 ITS time..........Blueberry Muffins for the Crazy Cooking Challenge with Tina. I almost stepped out this month, this is my 4th blueberry muffin recipe that I tried.......This recipe is a keeper for sure. I found this muffin recipe on my baking addiction I added more blueberries then the orginal recipe and added the streusel topping (from barbara bakes). Hope you enjoy looking at all the blueberry muffins that are posted and a big thank you for Tina and all the hard work she does each month to make this happen. Happy baking and a Happy Easter....Andi
1 1/2 cups blueberries (orginal recipe only calls for 1 cup) fresh or frozen (I used hand picked Wild Maine Blueberries which are smaller, so I used about 1 1/2 cups)
In a small bowl combine the above ingredients and mix til a sandy texture
Preheat oven to 400 degrees, this recipe makes 12 muffins, I used paper liners or you can spray your muffins pans with PAM.
In a medium bowl add the flour, salt and baking soda and whisk together
In another bowl add the blueberries and add about 1/4 cup of the flour mixture and coat the blueberries with this. This helps to keep the berries afloat in the muffin and not sink to the bottom. (Mother Goose always told me that) Do what your mother says...............
In a large bowl add the sugar and the lime zest and mix together, then add the eggs and beat with the mixer until thoroughly incorporated. Continue to mix while slowly adding the oil. add the vanilla. Hand mix and add the flour mixture alternately with the sour cream. Do not overmix your batter. Gently add the floured berries and fold just enough to blend the berries within the batter. Using a ice cream scoop,scoop out the batter among the paper liners. Sprinkle the tops of each muffin with the Streusel sugar Topping. Bake for 20-22 minutes. Enjoy