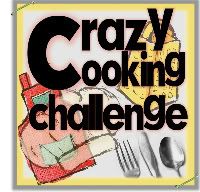 The time has come again for the Crazy Cooking Challenge with Tina from Mom's Crazy Cooking. The month of December the cooking was to be "Fudge." So off we all go into blog land and look for a fudge to make. I found two, one for peppermint fudge at Mele Cotte and another for chocolate pecan fudge at angel foods kitchen. Both of these were made by me, tasted and shipped off with hubby to his work. I liked them both, but for all the calories in fudge I want peanut butter. So, you ask why didn't I make peanut butter, I would of eaten it all! So I share two wonderful blogs with you. Happy Baking, Andi
melecotte
18 ounces white chocolate chips
1 (14 ounce) can sweetened condensed milk
2 Tbsp heavy cream
1 tsp vanilla extract
1/2 tsp baking soda
1 tsp peppermint extract
3/4 - 1 cup peppermint candy crunch*
( I crushed candy canes in the small food processor)
In a heatproof bowl set over simmering water, or in a double boiler melt the chips, condensed milk, cream and baking soda. Stir frequently, til the chips have melted. Remove from heat and stir in the extract and 1/2 cup of the crushed candy.
Prepare your 8x8 inch pan with parchment paper, allow the parchment to hang over the sides to give you the handle to lift the fudge out of the pan. Pour the fudge in the parchment paper lined pan then sprinkle the top with the remaining crushed peppermint. Refrigerate for at least 3 hours. Lift the parchment and fudge from the pan. Cut into 1 inch cubes. About 64 pieces.
* crushed candy canes or peppermint candies work as well
Chocolate Pecan Fudge
angelfoodskitchen
1/2 cup butter, softened to room temperature
1 cup semisweet chocolate chips
1 tsp vanilla
2 cups white sugar
1 (5 ounce) can evaporated milk
10 large marshmallows
1 cup chopped walnuts or pecans
1. Prepare your 8x8 inch pan by lining with foil. Lightly butter the foil. Set aside.
2. In a medium size bowl combine the butter, chocolate chips and vanilla and set aside.
3. Combine the sugar, milk and marshmallows in a medium size saucepan. Bring this mixture to a boil. Stir frequently and then reduce the heat to low and cook 6 minutes more, stirring constantly. Remove from the heat and pour over the butter and chocolate chips. Using your hand mixer, mix this until it thickens and loses its gloss. (About 3 minutes) Add the nuts.
4. Pour into the prepared pan. Refrigerate overnight. Lift the fudge out of the pan, peel off the foil, and cut into small squares. Keep stored in refrigerator.